An interview with Michał Żebrowski, known among others from such movies as "The Witcher", "Ogniem i mieczem" or "Pręgi", who together with the the director and artistic director Eugeniusz Korin founded The 6th. Floor Theatre in 2009. The artist has been awarded for his achievements with the title of Leader by vocation in the category Leader in Art and Leader in culture and arts management. As the executive director he talks about creating the theater, which familiarizes people with death and the pain of being. He says that only when you are surrounded by people better than you, you can do something you really believe in.
You are an acknowledged and busy actor, how did you come up with the idea of establishing the theater?
Together with my friend Eugeniusz Korin, we had that feeling we needed our own place – a place where plays would be so amazing that people would be standing in long lines to get the tickets. And in that time there was lack of the literary theater, with which I grew up. In Warsaw there wasn't a theater common for all generations. I wanted to do something about it. I am glad I met Eugeniusz who at first reminded me of Tadeusz Łomnicki and "King Lear". In 1989 Izabela Cywińska became the minister of culture, and she left her theater to a young and farseeing director, who was Korin. He was great at noticing the trends and many acknowledged directors started from working with him. Me, as the already distinguished actor, missed the theater. I chose Eugeniusz who in my eyes
was a hard-working man. He immediately got things started and sent me five plays, which according to him we should do. We started with " The Lonesome West" of the Irish playwriter Martin McDonagh, which was played in Fabryka Trzciny (an independent center of arts founded by Wojciech Trzciński). The theater I am interested in makes people familiarized with the secret of death and the pain of living. It is a place where a man feels safe, regardless of his or her sensitivity. The most important is to do theater that united people, and not divides them or stigmatise. This is not an easy task.
You are definitely the leader in arts and arts management. Do you think a man is born the leader, or becomes the leader?
A few years ago, Eugeniusz told me a very important sentence: Michał please forgive, but you are either born the director or not. I don't feel like a natural born director, because I don't have predispositions, or the still character or an internal disposition. However, I think I am the leader who because of my passion and involvement, sorrounded by people better than me, can do something in which he believes in.
Do you support the idea of teal management?
Yes, we create our theater together with people who agree on this and they see the sens in it, and also they have the same taste in arts and they like similar literature. I am willing to
take the leader's role, but I don't have analytical personality or character to manage an institution by myself.
Perhaps it is because you are the artist in the first place?
Yes, but Korin is the arts director in the first place, but also the manager, so me and all other people working here take advantage of this. Before that I was self-reliant businessman, now I am the executive director. This is great responsibility.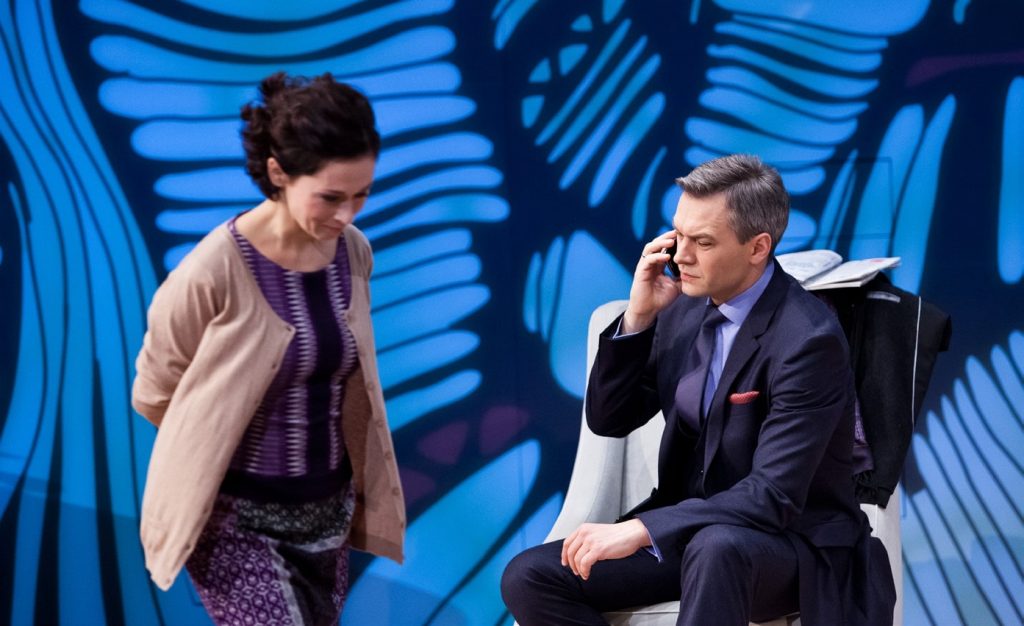 I think leaders know how to delegate tasks, one person is not able to handle everything.
My wife says I have a gift for finding people who are skilled. I know how to get talent out of them and this doesn't necessarily concerns being actors or arts in particular. I think a young man who can do things on his own, who wants to be part of some organization, tries to be useful, is already a winner in life. Nowadays, people often mistake creativity with twaddling, because they think something results from that twaddling, and it is not necessarily so. While in our theater, we want to work in such a way that no matter which level the employ works at, he or she should work better than me. A great example is the gaffer Hubert, the artist whose works may be seen at the exhibition in New York. I am happy and proud that I have such a person in my team. It is similar with other workers, e.g. the stage manager or hair-dresser. We also try to make everyone satisified with the salary.
Is it you who attracts the great actors to your theatre?
Actors want to play a good theater, I only persuade them that we do something good and authentic, but actually I don't need to convince those really great actors to anything. They were great before I became distinguished. To me the great honour is to have remarkable people in my team: Wojciech Malajkat, Wiktor Zborowski or Joanna Żółkowska. This theater is the way of living, and the way of surviving, although sometimes we have to make ends meet. We want actors to feel special at this place.
Do you prefer to act in movies or theatre?
A good movie gives the same or even bigger satisfaction, because it reaches a wider group of viewers, it will be seen by at least few hundred thousand people. It is different with the theater. However, everything that the actor learns on stage may be used in the movie, but not the other way round, as the technique of acting in the theater is completely different than in the movie. Of course there are actors – I am not oneof them – like Anthony Hopkins or Al Pacino, who combine both the skills in masterful way. There are also such great actors as Jack Nicholson who have never performed on stage and probably won't perform there, because they don't like it.
What role are you particularly proud of?
Of being dad. I am engaged as dad: I drive children to school and from school, I spend a lot of time with family. I had great relations with my close family and today I understand how important it is to spend time with children. In the future I wouldn't like to be remembered as a frustrated actor looking for the role of his life all the time, who hurts everyone around. I have seen many situations like these and I was always thinking
why artists forgive each other this kind of behaviour.
It is said that artists have their own rights.
And what about the artists families, don't they have any rights? Personally I think I still haven't reached this level inside me to be able to say I feel fullfilled.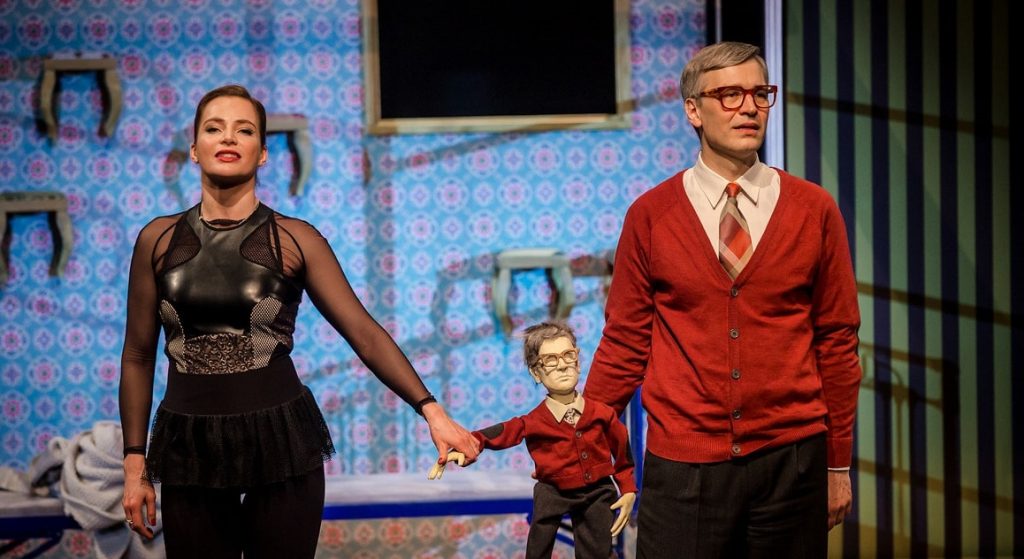 And what role would you like to play to achieve it?
The one about which the viewers would say after the play: "If we hadn't seen Żebrowski in this role, our life would look completely different". However, big roles happen quite rarely. But my mother says that my best role was on my graduation, when I played Jimmy Porter" Love and Anger". However, I like my recent performances, for example Ostrov in
"Uncle Vanya". I know I will never play Hamlet, and usually this character is played best by actors in their fifties. This is incoherence. I must admit I liked that idea of Maciej Englert in the contemporary adaptation of this play, performed by Borys Szyc and Katarzyna Dąbrowska. She was the mother of Szyc, although she was 28 years old, and he was 35. When she asked the director why he decided to do it this way, he replied:
"Because everyone would like to have the mother like you". This is the clue.
You are not the director. Have you thought about becoming one?
Fortunately, I am not. Being the director is a gift. It means creating such a world on stage that the actor starts to understand what the idea for his role was only during the dress
rehearsal. He can't predict this by himself.
Do you get involved in charity?
Of course. We have the ambition to be not only the culture institution, but also the organization which deals with various problems of social life. We also take part in many
charity and support actions. We want to be close to people, be open to the world. Last week we visited "Association of Little Poor Brothers". We think in many directions and as the only theater in Poland we support the Onco-olympics, the games for children who went through cancer disease. We also hold education panels or meetings with senior people, which I attend of course.
Plans for the nearest future?
We are going to have four super premieres: "The President's Ear, the HERITAGE", version of the internet hit (21 December), "The Lonesome West" (30 March) with great casting:
Lubos, Czernecki, Daukszewicz, Olszańska, next "The Beautiful Lucinda", also directed by Korin. And the fourth premiere, which I won't tell about now.
And how do you load your batteries?
I read books, I talk to my wife, I go to the mountains, I swim a lot. I am fascinated with good literature, which is a bottomless mine. I strongly recommend "Homo deus. A short story of tomorrow" – Yuval Noach Harar.
The interviewer Beata Sekuła
Written by Natalia Doległo