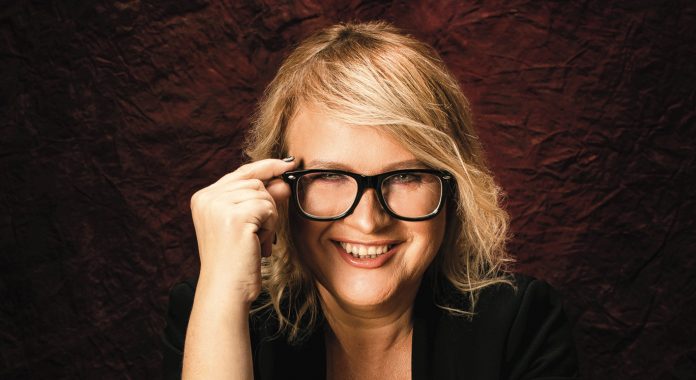 The unique and extremely beautiful creations of Grażyna Pander-Kokoszka are worn by famous journalists, artists, and the winners of beauty contests. The designer worked with Katarzyna Kowalik the European Fitness Bikini Champion and she also dressed singers Michał Szpak and Paulla. In recognition of her talent, creativity, diligence and social sensitivity, she was nominated for the title of the Charismatic Woman.
Were you born a charismatic woman or did you become one?
I think it's life that teaches us what kind of women we are to be. At first I was shy, I only had few friends. What a woman you are is partly a lesson learned at home.
Only later do we learn who we want to become. In life, you have to be able to stamp your foot…
I've always wanted a job that leaves something behind. I think that's why my life story worked in such a way that I founded the G-Style studio 16 years ago.
I often say that if I had to leave this world tomorrow, all my photos and works would be left for me. It's not about being recognizable, but about having your own output. I scrupulously collect all photos of finished projects.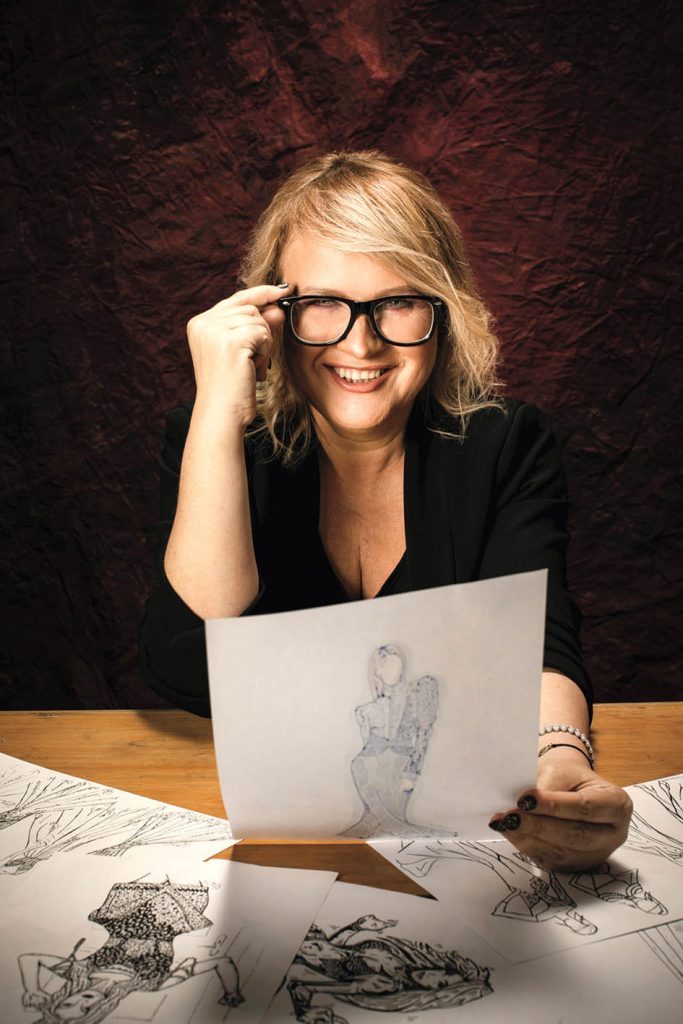 What inspires you to create?
Usually, the designers draw, buy materials and sew. That's not how it works here. I go to the store where I can stand for hours and choose all these wonderful fabrics. I finally get something. I have hundreds of ideas, I put it on a mannequin and that's when the creation process begins. I like some colors more than the others. I love blue color.
What fabrics do you use?
I love lace, shiny fabrics, I don't like velvet. I like georgette because it falls nicely. I prefer thicker fabrics in general. I love all the pearls and that kind of ornaments. I like the protruding corners and shoulders. I am in love with epaulets, "flowing" chains.
You dress artists, journalists and other famous people. Who else do you create for?
I work with the stylists of these people. They are usually looking for something original. I design or release something ready: wedding, evening or prom dresses, bikini outfits. I don't sew pants, suits and things like that. I don't take part in any fashion fairs. In this case, the popular "word of mouth" or Facebook and Instagram when it comes to foreign customers work better. We have only been to a wedding fair once. After all, recommendation works best. People come from all over Poland and from abroad.
Do you duplicate your creations or are they rather unique?
When it comes to the stage creations, they are usually one of a kind and remain so. I had such a situation with a wedding overall that I had prepared for a session. A client, who only wanted a mantle, came, and finally it turned out that this overall caught her eye. She ordered it, so I made the same for her. As a rule, however, I make single copies.
Is a dress made overnight or is it a longer process?
Sometimes we can finish something in one day, and sometimes it even takes us half a year. It all depends on what we are doing. It happens that I cut the base, and the creation is finished for another week, but the idea itself remains. And it also happens that it is hanging because something still does not suit me. I am looking for what else to add in my drawers.
I also have dresses made of string and caps. I don't do it anymore because it takes a lot of work. It takes the whole winter to make such a dress. Now they prefer to sew less labor-consuming creations and more the ones that can be made faster. Once there was even a dress made of screws. I really like the skull theme. I love such gloomy atmosphere.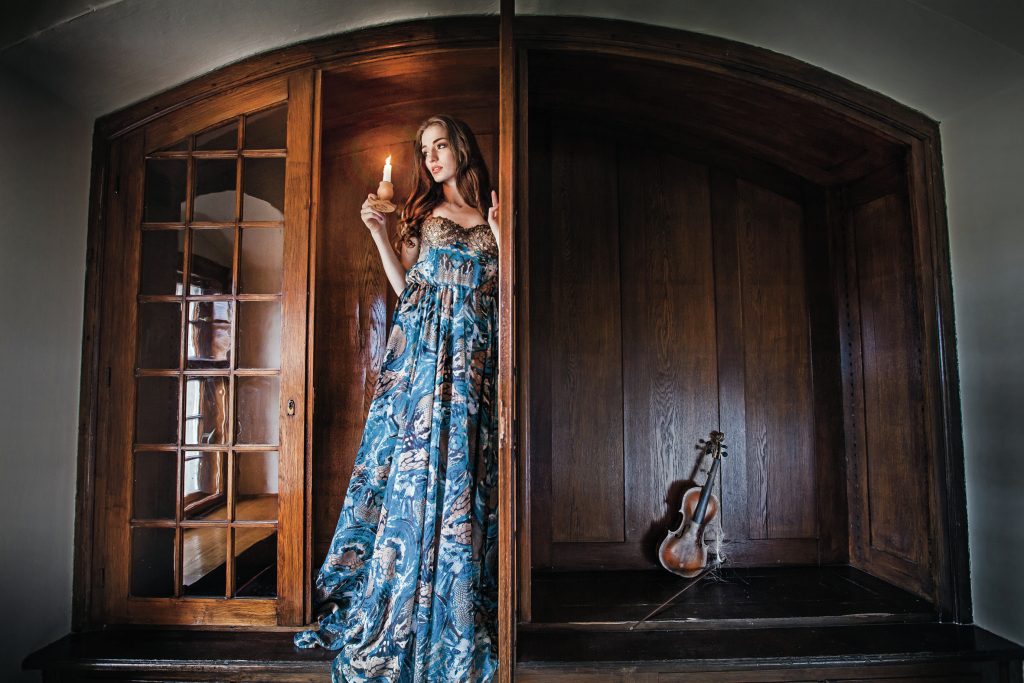 Why did you decide to participate in the "Got Talent" program?
First of all, I assumed that designing is a talent after all, although many believe otherwise. I was inspired by a girl from my industry, who took part in the competition the year before.
I recommend everyone to take part in the program and take their chances. It was an excellent form of advertising: an interview, a show – an extraordinary experience.
You have been involved in many other projects
I fell in love with photo shoots and fashion shows, they give me a lot of satisfaction. Now, during the pandemic, we only had one outdoor photography workshop. I like to present myself as the last one at the show. It is the most distinctive, remembered by the audience the most. We, the designers are standing at the back, but I would like to sit down and admire the models on the catwalk. Unfortunately, all I can do is watch their backs (laughter). I would like to enjoy these moments while sitting in front of the audience. Of course we see it in rehearsals, but it's not the same as at the show after all. That's why I prefer photos and sessions. We often meet at various outdoor photography workshops. People from all over Poland and from abroad come. We get to know each other, barriers disappear, there is no problem with conversations, establishing relationships.
During outdoor photography workshops I am trying to spot which photographer is good. I primarily look at photos and try to work with him/her to get the best results.
I also had the pleasure of working with Mrs. Ilona Kanclerz. She was preparing photos for her magazine and invited several designers to collaborate.
I have some great memories of the "Fashion Week" organized by the Silesian Cultural Center in Świętochłowice. It is an annual fashion event with the participation of many designers and people from the fashion environment. I also took part in the "Fashionable Ruda" show. The face of this broader project was Joanna Krupa, who attended this event in person. The show took place in Ruda Śląska, and its idea was to promote the city and select the Red Haired of the Year, a girl with red hair who represented the city.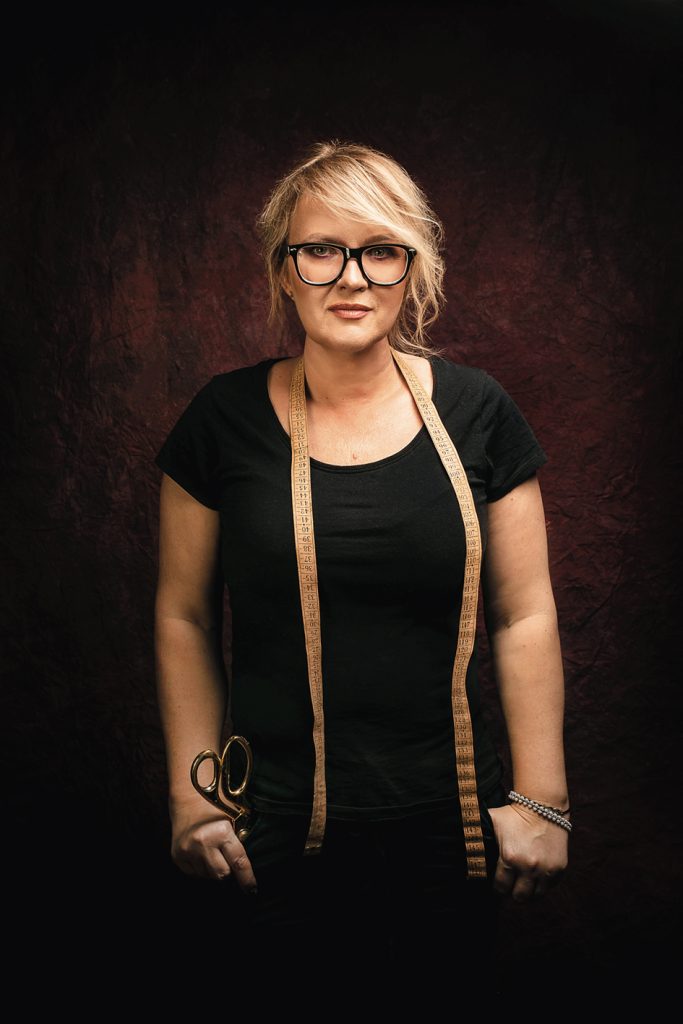 You also design swimwear and shorts for men for competitions and bodybuilding shows. Where did this topic come from?
A girl came to me and said that she had a competition in Warsaw. She convinced me to sew her a bikini and that's how it started. These are seasonal projects, prepared when the competition takes place. Preparing such an outfit is really time consuming. It takes a long time to cover the outfit with zirconia, the effect is perfect nevertheless. It takes about 10 hours to glue the gemstones on an outfit like this. The costumes are also covered with Swarovski gemstones. Of course, the price is also different. The gluing is done manually and requires great precision. The outfits can even have up to 13 colors. The men's shorts are not decorated, but made of shiny material. I admit that I am also interested in costume design and the preparation of theatrical costumes.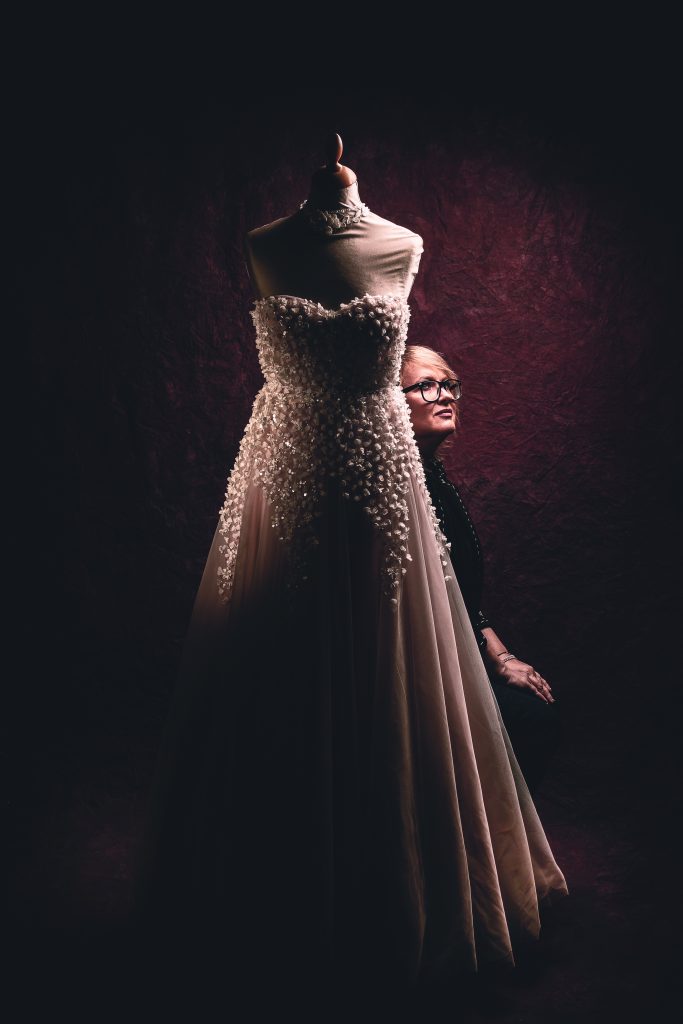 What are you most proud of in your life and what are your future plans?
My family naturally – my son and husband. My husband supports me in what I do. Although I am very busy, it is important that they are always next to me.
The plans are the implementation of outdoor photography workshops. I try to get involved in charity campaigns by donating dresses for auctions. Hope I will not run out of energy. •
Iwona Wolańska-Stachurska
Beata Sekuła