Mr Władysław Grochowski – chairman and founder of Arche Sp. z o.o., one of the biggest developers in Poland – was nominated for the title of Leader by vocation for his remarkable achievements in management and also for his wide ranging social activities.
Personal and professional development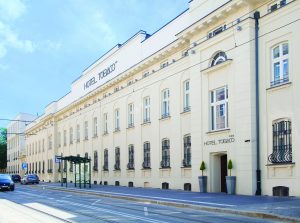 – Personally, I think we are born with certain leadership skills, however we shall build them up during our whole life" –  the chairman of Arche Grupa admits. After graduation from Secondary School of Art in Lublin, he studied at the faculty of Film in Łódź. Then, for a couple of years, he worked on his farm.
Between 1990 – 1997 he fulfilled, pro bono, position of the mayor of Trzebieszów Commune in lubelskie voivodeship. Till today, he commands respect of the local society. When he started the business in 1991, he never thought it would be so successful.
Arche Grupa already built over 8000 houses and flats. In their latest sales offer we can find apartments in very prestigious areas, such as Ursynów, Piaseczno nearby Warsaw, together with flats and lofts in Tobaco Estate and Matejka's investment in Łódź. The Albatros Estate in Ursynów and Woronicza Estate are ranked of the best Arche has to offer.
Arche Grupa is recognised not only for houses and flats but also for hotels and furniture available for everyone. What distinguishes Arche from other brands is its conversion of old builds into home. Architects and designers only make slightl changes to the facility, respecting the spirit of the age that faded away.
The calling card of Arche is without a doubt the Palace and Grange in Łochów, Koszary Hotel in Góra Kalwaria, Hotel Tobaco in Łódź which received 'European Property Awards – Best Hotel interior Europe', Castle Biskupi in Janów Podlaski which reveived in 2018 the Laur for restoration works of the above mentioned castle , Pulawska Residence Hotels and Polonez Hotel in Warsaw, Arche Hotel in Siedlce and Częstochwa and restaurants 'Kuchania za ścianą' which received 'Food Business Awards' in 2015.
Arche Grupa is the leader on the property development market. Built and cultivated for years challenges itself all the time. Its motto is 'we combine contradiction, we trust everyone, we change ourselves'.
Its founder educates himself by broading his knowledge in the area of effective management. He is particularly interested in 'Turquoise Management' created by Federic Laloux, where the employee, by himself settle his duties, and where well known boss figure, does not exist. For Mr Władysław the perfect employee shall have passion for his work, may sometimes commit mistakes, works diligently and builds the company's reputation.
Władysław Grochowski wakes up with gratitude for everything in life, he never follows a particular path. As he says – I go with the flow. I can't imagine doing the same thing over and over again. His main motto sounds: 'work as you please' and 'do not stress too much'. He considers failure as a lesson, is not afraid of financial breakdown and trusts and respects everyone. He is proud of Arche, its employees and as always says – we all are complementary to one another.
Private and social aspects
He's been married to Lena Grochowska since 1978 – a painter, founder of charity that helps Kazakhstan's families start new life on the polish soil. The chairman Grochowski is very proud of his capability to help over 15 families which have issues with settlement in Poland. The families received accommodations, were offered jobs and also were assisted by psychologists to tackle other problems. Mr Grochowski also financially helped with building the school in Chad – one of the poorest region in the world.
Moreover he organises conferences and en plein-airs for people with Down syndrome, spreading the message that they are also sensitive, talented, intelligent and deserve love. He breaks the deadlock, rises awareness of disabled persons. He is a father of two sons.
Mr Władysław spends his leisure time on working on his farm. He also likes indulging himself in the country sied where admires his fallow deers.
I am extremely happy person as I make my dreams come true and I do what I really love in life – he perorates.
Dominika Mal, Beata Sekuła