The last few years were a time of global expansion of the sloggi brand, which has had its reflection on the Polish market as well. Although sloggi has figured within the portfolio of Triumph International from the very beginning, which means over 40 years, only the last three years were essential for the brand's growth. That would not be possible without appropriate structures, created and managed by Anna Pazderska – Head of Sales and Marketing sloggi PL Hub, who implemented the new, global vision of sloggi to the local market. No wonder that she was awarded the title of Charismatic Woman by "Why Story" magazine.
There was never a situation in which I would not stand by my team and support them," highlights Anna Pazderska. "For me, people are the most important. My team is my priority because their success is also my success." As an experienced manager, Anna always chooses extraordinary personalities. She stresses that "character is something one cannot learn". She graduated in Management and Marketing, as well as in Finance and Product Management. Her interest in self-development and psychology led her to the Polish Academy of Sciences. She started her professional career as a trainee in L'Oreal. She became a Product Manager after ca. 9 months. The next step was a promotion to Vichy and then to CEDC Bols. In the meantime, before starting her career as a Marketing Manager for Triumph brand, which continued till 2017, she got married and gave birth to a daughter. Another step was the promotion to the position of Head of Sales and Marketing PL Hub in sloggi.
sloggi – revelation and revolution in the world of underwear
The breaking point in the career of Anna Pazderska was switching from Triumph to sloggi. She has created the power of this Triumph's brand almost from scratch. It was the time when she was a Communication Champion responsible for supporting local teams during the times of transformation and communicating the upcoming change coherently. Creating an independent structure for sloggi turned out to be a huge project. A young, thirty-something-year-old woman managed to successfully create a vigorous sales and marketing team.
The brand grows dynamically. "My biggest challenge is the constantly expanding team. We became a complex structure: we have the marketing team, the sales department, the retail development team is currently being formed.
Malls dominated the Polish market, so such a modern brand as sloggi has to be present in this area too. The development of our own chain is our priority for the upcoming months and years. We celebrated the successful opening of the first sloggi store in the prestigious Galeria Młociny in Warsaw. "I can assure you there will be more," says Pazderska about the future of the brand. Currently, sloggi products can be found in Triumph stores as well as in the multibrand stores. But the situation changes dynamically. This year sloggi plans to open store in Złote Tarasy and potentially in other locations. "The information about our store in Złote Tarasy is fully confirmed. We do not even think of slowing down, and we already consider seriously another three locations. The expansion plan is ambitious and brave, just like our brand. It means that we are currently working on a full retail chain," adds Anna.

sloggi means the comfort of being yourself and of the self-consciousness
Such a success would be impossible without the finest quality of sloggi products, their innovative character, and, first and foremost, the brand image as brave and modern. As the leader in its category, sloggi sets the trends, revolutionises, and redefines the very concept of underwear. The function of the underwear changed dramatically throughout the last few decades. In the modern world underwear is no longer used to emphasise sensuality, it complements the lifestyle and ensures the comfort of everyday life. sloggi steps out of the stereotypical beauty zone to show that what matters is not how we look but how we feel in our bodies. "Beauty cannot be measured with size. We would like to invite women and men to our world free of judging others and criticism. Our products allow you to feel free and be yourself. We consider ourselves to be a part of the 'body positivity' movement, which points up that everyone should feel comfortable in their bodies, no matter whether they weigh 80 or 45 kilos," explains Anna Pazderska.
Zero Feel effect
The perfect example of the sloggi identity is the brand's unquestionable bestseller – Zero Feel. This underwear adjusts to the body in such an incredible way, without pinching, and is so comfortable that it can be easily compared to a second skin. The introduction of Zero Feel to the Polish market in 2018 was a real breakthrough for sloggi. "The success of Zero Feel line combined several aspects: exceptionally delicate fabrics, seamless trims, as well as modern design and colour palette. For the last three years, our designers kept working on expanding the line. Today our offer consists of more than just original Zero Feel, meaning: Zero Feel Natural, Body, Racer Back, and more," adds Anna Pazderska.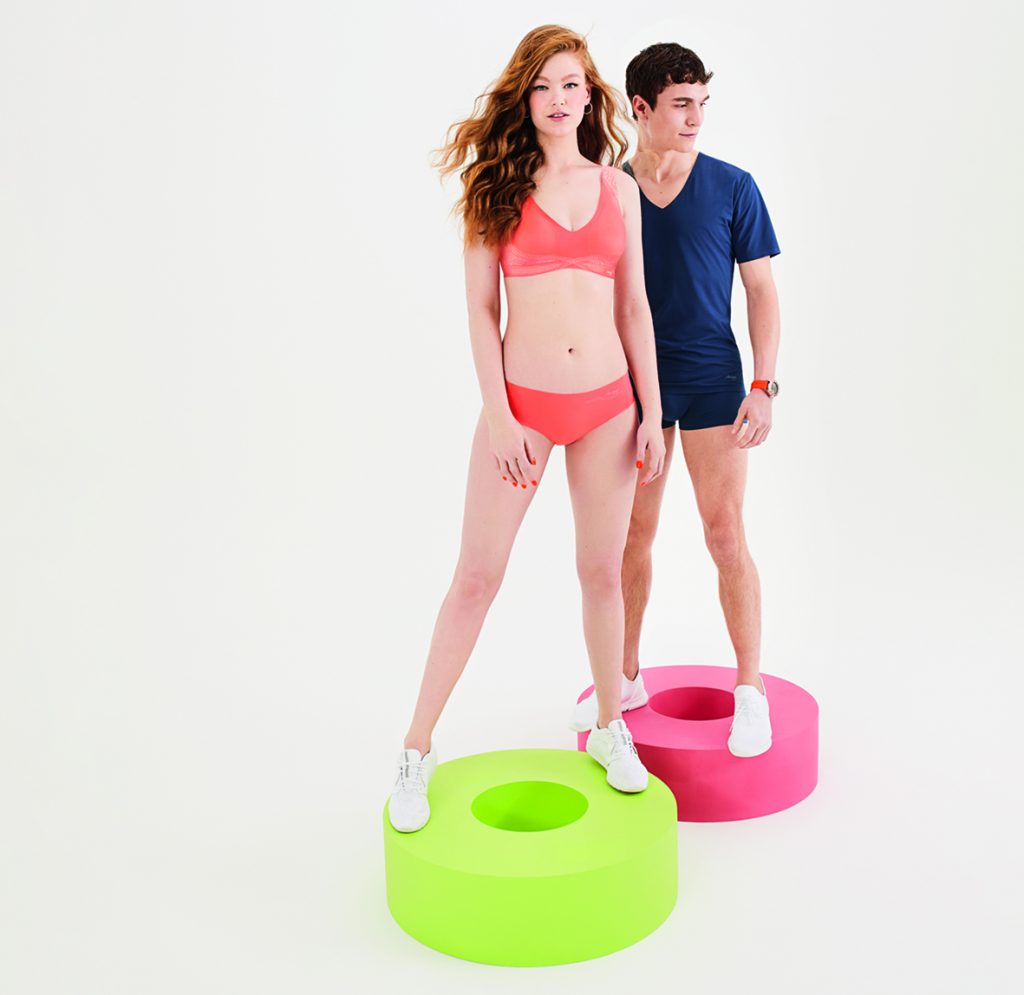 Underwear like oxygen
sloggi can pride itself on unforced innovativeness and constant work on ground-breaking products. Another seven-mile step will be taken in April 2020: the lightest bra in the world – Oxygene Infinite – unwired and equipped with a modern clasp, weighing only 28 grams – will appear on the stores' shelves. It is another confirmation of the "Free23" promise that the brand will not design a single wired model to 2023. sloggi opts for the comfort and modern technologies that offer better solutions than metal elements.
"Future is bright – this was our motto from the very beginning. I believe that the revolution that we have started in the brand will translate to nothing else but a bright future. We will do our best to make Polish women and men feel the sloggi vibe and join the comfort revolution on which we have been working for over 40 years," summarises Pazderska.
Anna Rydzewska