Biuro Rachunkowe PROFIT, owned by Marzanna Peukert, has its seat in Jaworzno, but handles the affairs of companies from various parts of Poland. Close to two-thirds of is customers are companies having the so-called complete accounting, some of them employing up to several hundred people. The accounting firm owner is a woman managing the largest enterprises and an expert on reorganization, finance, tax intricacies, production organization and many other business operations. PROFIT received the title of The Best & More not only for the effective, more than twenty-year activities in the accounting sector, but also for broad social activity, including for Fundacja Śląskie Anioły or Stowarzyszenie Kobieta Charyzmatyczna.
How do you acquire your customers' trust?
This is a field where you do not need a multitude of people who will just carry about documents, but actual specialists. Thanks to the high competences of our employees, we can serve even very large companies. They trust us as we have 21 years of experience, ensure we do not make any mistakes and we remain at the customers' disposal 24 hours/7 days a week. It is worth stressing also that our new partners are obtained not thanks to any advertisements, but solely to recommendations. This speaks for itself.
Pandemics which brought about different limitations must have made your work more difficult.
It has not made it easier to anyone. For us, the remote work is not enough in certain cases. It is important to have personal contacts with companies, discussing problems especially as we do not deal solely with the documents but we provide advice on various company operation aspects thanks to my experience and business education. For example, how is it possible to carry out a reorganization remotely? What is more, COVID and the activity reduction related to it affected many companies. Some face reduced sales, other must look for the funds for the projects started. We help them at every stage, from the shield applications to EU grants. Our regular vendors are offered that assistance free of charge during the pandemics. I believe that we all need to support one another when this is necessary. I believe in the necessity to help one another in life, not just in business.
Paradoxically, is there more work during the pandemics in this sector?
It even cannot be otherwise, though every sector of the economy experiences it in a different way for obvious reasons. Large companies face e.g. sick leaves of employees, supply problems, mostly with restricted import, the need to follow sanitary regime and immense costs resulting therefrom. Small ones often fight for survival which brings numerous applications we fill in. However, I prefer to do something for free than to increase rates for certain entities for any extra work, although I faced such expectations, similar to others, especially from smaller companies. The truth is, however, that my costs rose on the grounds which affect my customers today. I decided to reduce the price several times, out of sheer empathy, but also friendship, as I have had business relationships with my vendors for many years.
Such an attitude pays off, as the good returns…
I never look at it like that. I do not expect anything in return. The people brought up in the same way as myself help as they understand this is necessary. If they supported others thinking what they get in return, this would not be any help but simply a mercenary activity. My mum who taught me those values would have never accepted such an approach. For all her life, till last year, when she got sick, being 82 years, she got involved in different charity campaigns, offered help, frequently together with me, and it would have never come her to mind to think what benefit she would acquire in return. The awareness you have not passed by anyone in need indifferently is enough.
But the accounting firm is just a part of your activity.
That is true. I am also the chief accountant in the company in Siemianowice Śląskie, with several hundred employees, manufacturing steel structures and modernizing electrostatic precipitator, as well as assembling industrial structures and devices. I do not know how but I have always been able to combine many things. This may be thanks to my good organisation skills which run in my blood, but also to the continuous development of my competences and experience. I usually have the least time for relax and rest. You need to find some for your family, for the granddaughter being the apple of my eye. And for my mum who needs more attention and time, even if only thanks to her age.
But it is important to charge your batteries.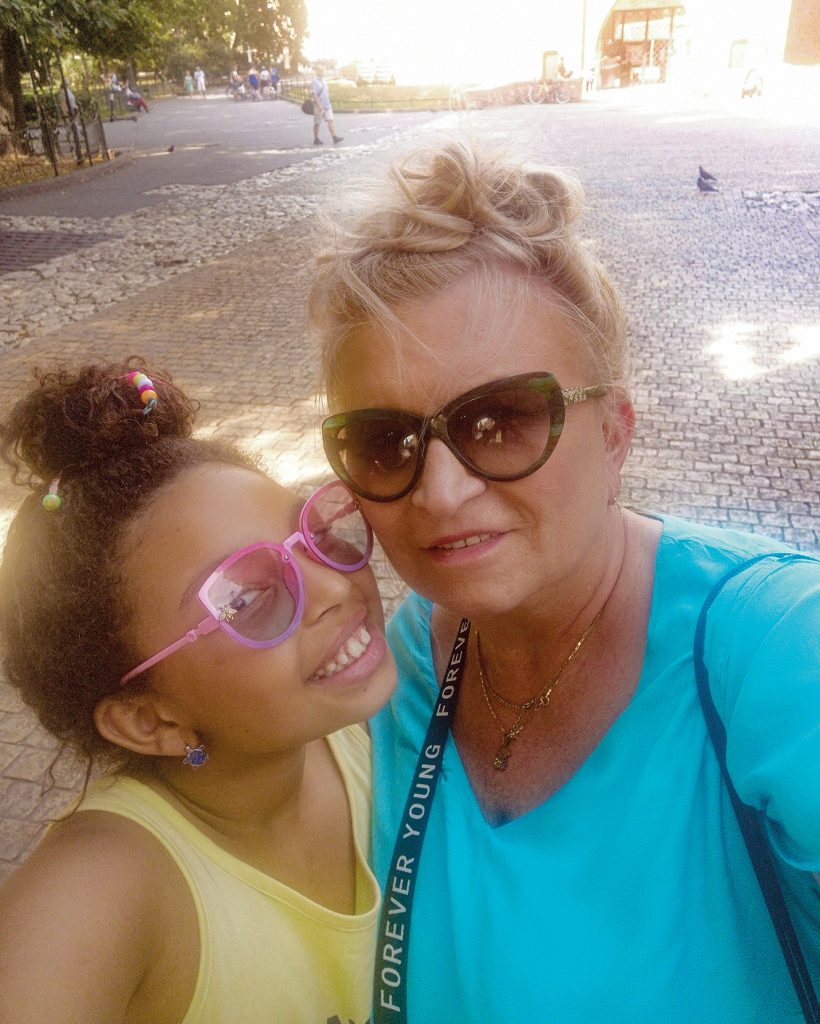 The best battery for me is exotic countries, the only place where I can really rest and can tune out, catch my breath. But it will not be possible for the time being. However, I have some plans connected with my granddaughter who has been talking about a single dream since she learned to speak. "Grandma, take me to Paris", she would ask sweetly. This is what I promised to her and when it becomes possible, it is where we are going to go together. Especially as we have one more important meeting planned in Paris. This is where my "step", as I call her, daughter lives who was virtually brought up with my daughters. She had a complicated, difficult childhood so I became a sort of a step-mother for her. She would spend every free moment, every holiday with us. She was a family member. No, I put it wrong, she is a family. We stay in touch so we simply deserve such a meeting.
Does it mean that doing good started many years ago?
I has never started and thus it will never end. This is a way of life. And only the group of people who devote us a warm thought e.g. on a Christmas day, is becoming larger each year. We are preparing surprises for the children from children's homes being the wards of Fundacja Śląskie Anioły.
Kinga Góralczyk
Beata Sekuła