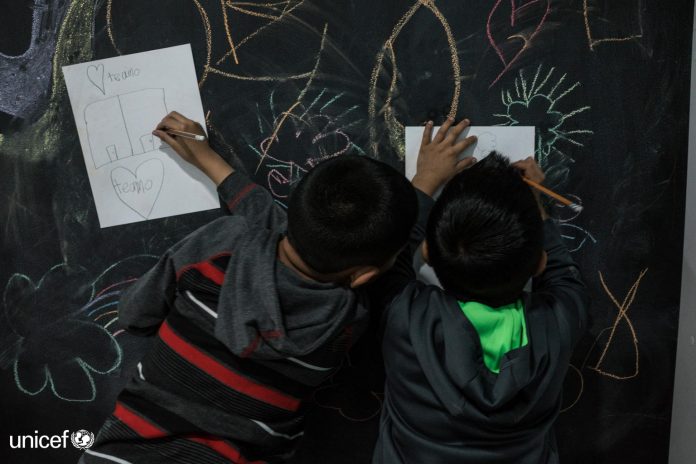 NEW YORK/PANAMA CITY, 16 August 2018 – Extreme violence, poverty and lack of opportunity are not only powerful drivers of irregular child migration from northern Central America (El Salvador, Guatemala and Honduras) and Mexico, but also consequences of deportations from Mexico and the United States – UNICEF said today in a new report. The children's agency also urged governments to work together in implementing solutions shown to help alleviate the root causes of irregular and forced migration and safeguard the wellbeing of refugee and migrant children along the journey.
Uprooted in Central America and Mexico examines the array of challenges and dangers faced by migrant and refugee children and families during the arduous process of migration and return.
"As this report shows, millions of children in the region are victims of poverty, indifference, violence, forced migration and the fear of deportation," said María Cristina Perceval, UNICEF Regional Director for Latin America and the Caribbean. "In many cases, children who are sent back to their countries of origin have no home to return to, end up deep in debt or are targeted by gangs. Being returned to impossible situations makes it more likely that they will migrate again."
More specifically, the report's findings include:
Poverty – El Salvador, Guatemala and Honduras are among the poorest countries in the Western Hemisphere, with 44, 68 and 74 per cent of children living in poverty in each country respectively. Poor children and families often take out loans to finance their irregular migration to the U.S., leaving them in an even more precarious financial situation when they are apprehended and sent back without money and unable to repay their loans. This economic pressure can leave children and families without homes or the resources to pay for essentials.

Violence – Gang violence is pervasive in many communities across northern Central America, with children targeted for recruitment, abuse and even murder. Between 2008 and 2016 in Honduras, for instance, roughly one child fell victim to homicide each day. Likewise, in El Salvador, 365 children were murdered in 2017, while in Guatemala 942 violent deaths of children were reported last year. Children and families who migrate due to the threat of violence may be at even greater risk if they are forcibly returned without any support or protection to these communities where they were previously in danger. Many returnees end up being internally displaced because it is unsafe for them to return home.

Stigmatization – Returned children and families face stigmatization within the community because of their failed attempts to make it to Mexico or the U.S. This can make it harder for returning children to reintegrate into school and for adults to find employment.

Separation and detention – Detention and family separation by migration authorities are deeply traumatizing experiences that can adversely affect a child's long-term development. Keeping families together and supporting alternatives to detention are key measures to ensure the best interest of migrant and refugee children.
The report also outlines a series of recommendations to keep refugee and migrant children safe and reduce the factors that push families and children to leave their homes in search of safety or a more hopeful future via irregular and dangerous migration routes.
"It's essential to address the risks faced by migrant and refugee children and the root causes that contribute to large-scale population movements," said Perceval. "Government leaders have an opportunity now to do the right thing. This means implementing proven approaches that can help alleviate the root causes; protect children in transit and upon reaching their destinations; provide children with access to essential services throughout the migration journey; ensure that deportation and return take place only when they are in the best interest of the child; and provide them with the protection and support needed to successfully reintegrate."
UNICEF-supported programmes in northern Central America and Mexico are making a difference, but while many young migrants, refugees and returnees are benefitting, these initiatives would have to be scaled up enormously to meet all of the challenges facing the region's children at risk.
Key Data
68,409 migrant children were detained in Mexico between 2016 and April 2018 – 91 per cent of whom were deported to Central America.

Some 96,216 migrants from northern Central America, including 24,189 women and children, were returned from Mexico and the U.S. between January and June of this year. More than 90 per cent were deported from Mexico.