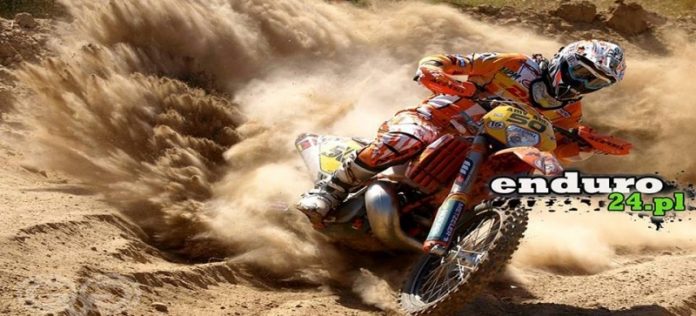 Passion of motorbikes
Motorbikes have always been our passion. As a result of our hard work and huge interest to two-wheel-vehicles, we were able to open our shop and a motorbike garage in Zabrze. The first in our city. Since that moment, we have been constantly trying to broaden our experience and be the best in what we do. The off-road riding has fascinated us for a really long time but we didn't expect that we would become absorbed by that to such extent when we were buying our first Enduro. So we decided to contribute to the development of that sport discipline in Poland in a more active way. That's how the shop-and-garage complex appeared.
In 2005 a new motorbike shop was opened in Stalmacha street and I am sure you had never seen anything like that before. Outside a cold, grey, concrete construction which was quite inconspicuous. It hid an amazing interioir. At the door a KTM on a steel frame, and inside- a real wonderland for all Enduro fans.
At the entrance we are welcomed with a wide grin. This is Aga who smiles to us. She has been riding motorcycles for years and she knows her job inside-out. In a few minutes she is able to find and appropriate helmet, clothes and accessories. Everything at reasonable price of course.
The shop itself amazes with its unique interior. You can smell the forest due to the shelves which are made of raw wooden boards. Neutral colours are a background to a huge variety of treasures which can be foung in the shop.
In our store you can find such brand as Thor, Kini Red Bull Racing , Troy Lee Designs, Kenny, Fox, Acerbiss, Leat, Motosportz, Rekluse, X-Trig, Tublis, Mecasystem, Scar, KTM and many more. Everything in all sizes is stored in one place which makes shopping easy and comfortale.
Enduro 24 is not only a shop for people who ride motorbikes. It is our dream which came true. The idea appeared long ago but thanks to help of good people we were able to make it real.
Enduro 24 is also a motorbike team. You can admire there for example Oskar Kaczmarczyk who is the master of bicycle and motorcycle trial. He is following Teddy Błażusiak, a rider who is famous in spite of his young age.
Finally, Enduro 24 is a co-founder and sponsor of many motorbike evenst like SILESIA RALLY MARATHON or ENDURO Cup.
We offer products for everybody at our store. Due to the size of it, all goods are available off-the-shelf. It is a place for all people who love open space and off-road. Everything you need to practice that sport, from clothes to the tiniest pieces of equipment can be found in our shop and on the Allegro in the Internet.