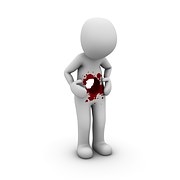 Six children are killed or injured every day and children as young as 10 years old recruited to fight
SANA'A/AMMAN, 29 March 2016 – A brutal conflict and a fast-deteriorating humanitarian situation are devastating the lives of millions of children in Yemen and have brought the country to the point of collapse. A UNICEF report "Children on the Brink" highlights the heavy toll that the violence in Yemen is having on children and the deterioration in an already precarious humanitarian situation.
UNICEF verified more than 1,560 incidents of grave violations again children in Yemen. As a result, over 900 children were killed and more than 1,300 were injured in the past year alone. On average, at least six children have been killed or injured every day. These numbers are almost seven times higher than the whole of 2014. With more than 50 verified attacks on schools, children were also killed while at school or on their way to or from school. These numbers represent the tip of the iceberg as they only indicate the cases that UNICEF was able to verify.
"Children are paying the highest price for a conflict not of their making. They have been killed or maimed across the country and are no longer safe anywhere in Yemen. Even playing or sleeping has become dangerous," said Julien Harneis, UNICEF's Representative in Yemen.
As the war escalates, the recruitment and use of children in the fighting continues to increase. Children are taking up much more active roles in the fighting, such as manning checkpoints and carrying weapons. In the past year, UNICEF verified 848 cases of child recruitment; parties to the conflict have recruited children as young as ten years old into the fighting.
The latest data shows that 63 health facilities have been attacked or damaged and most health facilities have reported severe shortages in medical equipment, supplies and personnel, along with sporadic electricity.
The disruption of the inflow of food and fuel as a result of the violence and restrictions on imports have paralysed the delivery of basic services across Yemen.
Beyond the direct impact of the war, UNICEF estimates that nearly 10,000 additional deaths may have occurred among children under five years old in the past year due to preventable diseases as a result of the decline in critical health services including immunization and the treatment of diarrhoea and pneumonia. This figure is in addition to the nearly 40,000 children who die every year in Yemen before their fifth birthday.
Already the poorest country in the region and one of the poorest in the world, Yemen has been pushed to the brink by this devastating conflict. Nearly 10 million children or 80 per cent of the country's total population of children are now in need of urgent humanitarian assistance. More than 2 million children face the threat of diarrhoeal diseases and 320,000 are at risk of severe acute malnutrition.
Despite violence, access restrictions and severe funding shortages, UNICEF and partners were able to provide nutrition programmes, access to safe water, and vaccinations for millions of children and women impacted by the violence.
"We need to speed up the delivery of humanitarian assistance and continue to save lives as well as children's dreams of growing up and acquiring an education," Harneis said. "It's a race against time".
UNICEF reiterates its call on all parties to the conflict to put an end to the fighting in Yemen and reach a political settlement. While the search for peace continues, urgent measures are needed:
• All parties to the conflict should abide by the laws of war, and immediately stop attacks on civilians and civilian infrastructure, including schools, health and water facilities;
• All parties should put an end to the recruitment and use of children in the fighting, and all children recruited to combat and non-combat roles should be immediately released;
• All parties should provide unhindered and unconditional humanitarian access to all children wherever they are in the country, including areas cut off by conflict;
• UNICEF and its partners urgently need to secure funding. To date, UNICEF has received only 18 per cent of its $180 million funding requirements for 2016.
"Yemen was already a fragile state due to decades of underdevelopment and intermittent conflicts. Sadly, children always bear the brunt. Without an end to the war, the country now risks becoming a failed state, with far-reaching and long-term consequences for children and their families," said Dr Peter Salama, UNICEF's Regional Director for the Middle East and North Africa.