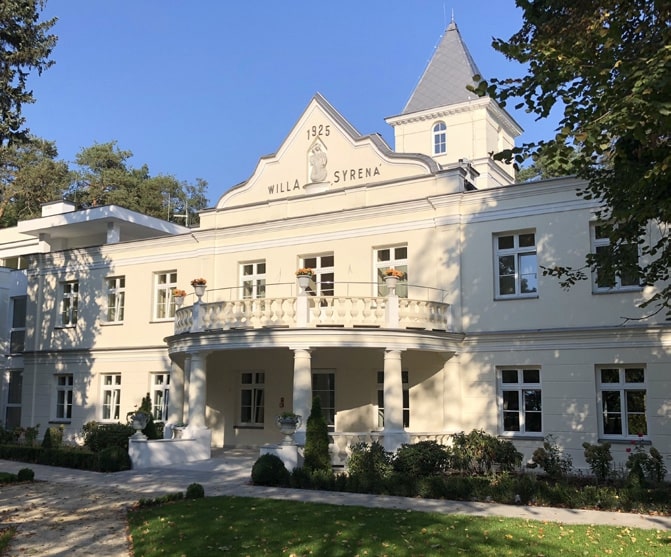 Willa Syrena (The Mermaid Villa) is a charming, historical building whose architecture harks back to a typical palace. Located in Konstancin-Jeziorna at Chylicka Street, it directly neighbors the only health resort in the Mazowsze region. The history of this place dates back to the 1920s, when Borelowsky joint stock partnership, a Polish representative of a silk factory from Lyon,
commissioned its construction. For many years, the villa operated as an elegant guest house. After 1945, it was taken over by the Polish Treasury and its period of magnificence seemed to be over. Luckily, Willa Syrena got into the caring hands of Mr Jerzy Karwowski, a winner of the Leader by Vocation award, and within a few months the building had regained its former splendor.
At present, the revitalized facade of the building can be admired, together with its splendidly kept surrounding green area. Soon, an exclusive venue will be opened here, providing top quality care and rehabilitation services.
A restorer supervised the revitalization of Willa Syrena, which meant that the building has maintained its unique character. Two additional wings have been erected to provide the highest quality of services and give access to a leisure area.
Willa Syrena has been created to provide its guests with sheer comfort. Its beautiful, elegant interiors harmonise with the modern functionality of the rooms. The restaurant and the spacious lobby encourage lots of socializing. The spa area with jacuzzi, steam baths, halotherapy chamber and massage services, provide relaxation and tranquillity. In order to
cater for the passions and hobbies of its guests, Willa Syrena offers an art therapy room and an auditorium, of which the latter serves as the cultural center of this place. The inhabitants are also encouraged to visit a nearby health resort park and a graduation tower. Close location to Warsaw allows for participation in cultural events offered by the capital city and the nursing staff will ensure that guests choose and participate in some of these city attractions.
Willa Syrena is not just a place for spending time actively and comfortably. It is also a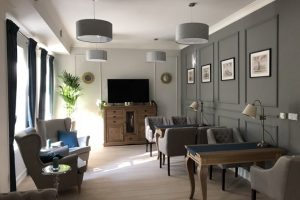 place where the priority is to cater for the health of the inhabitants. Meals are prepared onsite and they match individual dietary needs. The qualified, experienced nursing staff provide discreet support in everyday activities. The ongoing supervision of a doctor allows the monitoring of health conditions and referral to a wide spectrum of specialist medical care. A professional team of physiotherapists, who work under the auspices of Centrum Kompleksowej Rehabilitacji (Comprehensive Rehabilitation Center) in Konstancin-Jeziorna, guarantees matching the best individual therapeutic method. The facility offers kinesiotherapy rooms with hi-tech rehabilitation equipment, including the award-winning strength-exercising devices dedicated to the special needs of senior people. The top-class innovative medical devices ensure safe physiotherapy treatment.
Willa Syrena offers the best combination of tradition and innovation by combining the elegance and class of the Interwar period with modern functionality and a high standard
of medical services.