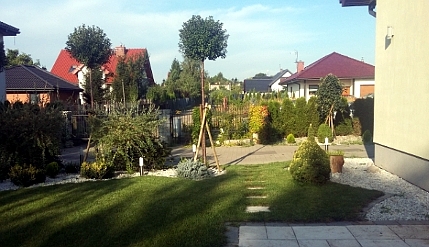 An passionate worker
An interview with Grzegorz Klamczyński, the owner of KS Garden enterprise, which deals with designing, establishing and caring of gardens
-I should not call you a gardener as it is probably outfashioned term, so I wil ask you in a different way. Why did you become the architect of landscape?
I do not find the term gardener as outfashioned one, actually I identify with it. I guess I I have chosen that profession, because it is a job with passion, you learn everyday something new, you gain wider experience thanks to practice- and this the most important thing.
What needs of garden owners should be taked by them into account beside financial aspect?
It is important how much money we want to spend as well as practical capacities of garden owners and their aesthetic requirements. If we are not have enough money to give the garden arrangement to the company then we need to tke into account how much tie we have to our disposal to dadicate to its cultivation. Therefore it is important if we manage to work in the garden, at what time and if our health status allows us to do perform garden works as some them might be forceful. Only then we may reflect if our garden should be very requireing.
Should these criteria be suggested to future garden beholders to be taken into consideration to avoid they are not up to the demands of garden works?
I always recommend my clients to take abovementioned criteria into consideration. Generally clients want to have a garden, that doesn't require works- it doesn't exist.
What is a preferred minimal surface of a garden as a maximum one can not be determined? What else is taken into consideration in reference to the terrain?
A preferred size of the garden can not be described as one tries to arrange even so small space as a tiny balcony. Garden design is one of the most important things in the early phase as already during house construction we need to take nto consideration some important issues such as hydratation system, quality of soil, access to the garden.
Could you recommend any typical kinds of plants according to lifestyle of the garden users, for instance, plants for people who work a lot, who are often out in business trips, for older people as well as for those who have plenty of time or for families with children?
Certainly there are some species which one can attribute to some specific group of people. Plants with needles- roses, berberis or the poisonous ones- for instance yews- are not recommended to people with small children. People who work much and don't have much time for gardening should consider evergreen plants, which do not rrequest much service- they do not lose leaves, they look well all year; all kinds of tall trees- spruce, pine, firtree as well those lower ones- mountain ine, cypress or those low like unipers. Currently the most fashionable plants service extensive are miscellaneous kinds of decorative plants.
What technological facilitations could be introduced to equip support garden owners in mantaining their gardens and to enhance the garden aesthetics?
Currently we have many technological facilities to offer. More and more the garden owners put the irrigation system in their garden when they put the garden in place and it happens ever more in case of already existing gardens. It is also important to install agrotextures, which protect the garden from weeds. We also recommend too seperate flowerbeds with cubes or ecoborders. More and mre peple buys automatic mowers, which independently cut the mower, which allows to spare much time.
What are the newest garden trends?
All that what is ecologic- elimination of chemical agents, natural compost, creating spaces for birds, insects. Garden has to be a space to rest, so it is important it is similar to the environment. Unfortunately, it is difficult to create a garden, which is serviceless and natural at the same time.
Now stones are fashionable and singular forms composed into gardens or plants. This time a crying stone is very popular, it is being placed nearbythe place of rest.
What is the importance of eclectism in chosing elements of the garden like plants, water, stones, wood?What is its importance for aesthetics, relax and for other aspects of our spirituality?
I believe one should combine different elements together, because it gives an interesting final effect.
One combines water, wood, stones together with floral compositions and this gives an fantastic final effect, what embetters the garden as the place of rest and relax- and this is what we intent to.
Beata Sekuła