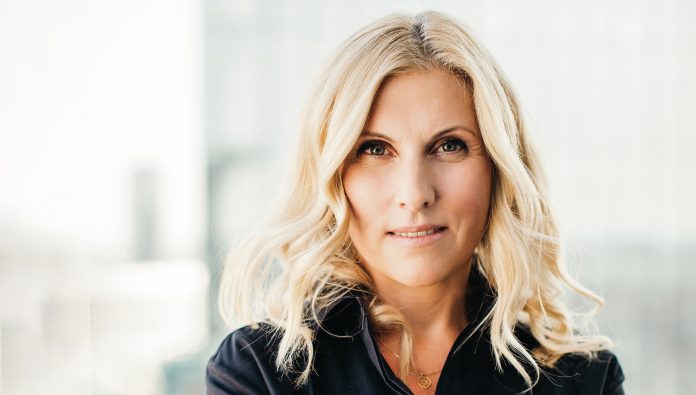 Talk with a board member of insurance company Aviva, Katarzyna Laurenza, on individual approach to the client and their needs, and the self-growth. Broady educated and connected with insurance business for 20 years, Mrs. Katarzyna is responsible for property insurance. Regardless of the avalanche of work, this sensitive and empathetic woman still finds time for community work and her passions. She has just been distinguished with the title of Charismatic Woman.

Do you think that it meticulousl studying and climbing the another levels of career in order is enough for one to become a charismatic leader or manager, or maybe you have to be born with that something and, no matter what we do, we they will be leaders anyway?
It is definitely not enough. However, in my opinion, charisma is more of a gift than knowledge and experience. You cannot learn it, you simply have it. It is something completely different from leadership that can be learned in college, by leading your company for a long time, or even managing a corporation.

So there is an option of being a but charismatic, good CEO?

This is especially visible in crisis situations. A charismatic boss can drag people with them, and the one who is efficient will often have to act alone. I want to believe your title because I prefer to think of myself as a charismatic person, rather than just an effective, efficient, well-educated person with some experience. I think everyone would like to see themselves that way, but it's much nicer when others see it in you. It is important to do things not only with talent, but also with passion and love, and to be brave enough to make conscious decisions. Now I know what I want and what my dream is; I am a pragmatic idealist, and certainly not one of the strongest. Nontheless, I have people around me because, as a sensitive, empathetic and open-minded person, I can talk openly about my feelings and weaknesses. Being aware of my fears allows me to move forward. Courage, sensitivity and leadership skills go hand in hand. I believe that we become strong when we don't supress our sensitivity.

Does it apply to both professional and private life?
Definitely. I can't fake. It's not possible to do important things without being genuine and truthful. We become someone when we manage ourselves; when we are consistent in what we plan, intend and then eventually do. I need people and their energy, joy, security. My approach to life and people is the same. I believe in the "energy cycle" model which implies taking and giving. People and relationships are essential to my life and work. If I have them next to me, I can act, I get involved; I also see business through the prism of people. Empathy is the key word here: I always think about the people who work hand in hand with me and about those we can help. And so it is when it comes to insurance, thus it is an especially good direction for me.

Was it the same when you were at school? Did you notice your potential, for example when holding some functions?
I did not pursue it, but still, I participated in many activities with a group of friends. I endeared others to me. It just worked out like that, because we had different ideas that were preceived as good. I have always liked sports and I have proven myself there; I trained tennis and skied to the Warsaw Ski Club for many years.

The higher the position, the less free time. You became involved in the insurance market, gaining new positions in companies. Is this a plan for life that you had to prepare for from the start?
I am a graduate of law at the University of Warsaw; it is interesting because during my studies I was more into international law, which was the topic of my MA thesis. It was the time when numerous foreign insurance companies, some of which I also worked for, entered the Polish market. It was an interesting experience because it was the start of their activity in Poland. It was both long and not long ago at the same time; cell phones were not that available then (laughs).

Foreign companies entering Polish market, more often offered jobs to people who were fluent in foreign languages.
True. Now it's more an obvious requirement, especially when it comes to English. I encourage children to take the opportunity and learn languages, because it educates, because we cannot live without travel, because the world is wide open to them. I learned Italian myself when I was 40 and I can say Learning in this age is more difficult. But speaking this language has always been my dream. I would like, when I retired, wake up in a country where people say good morning and smile to each other. The South is that kind of place.

Let's go back to the work in insurance companies.
I've learnt a lot in this industry and, despite my previous plans, I stayed permanently. Insurance business gave me independence from the very beginning, when I was not yet in key positions. I have worked in Polish and international insurance and brokerage companies. I have one of the first broker licenses. I am lucky to work with smart bosses and great people. I have always worked hard, and to this day I struggle with my weakness for perfectionism. I was raising my children, but during that time I managed to finish my AMP studies at one of the best business schools in the world, IESE Business School in Barcelona. In addition to practical knowledge I gain during the studies, they allowed me to obtain me a different perspective on many things and introduced extraordinary people to my life, including a group of friends.
Today, you use your experience and knowledge as a board member of insurance company Aviva Towarzystwo Ubezpieczeń Ogólnych.
Yes. We have many companies and an unusual for financial institutions board fifty percent of which are women. I am a living part of all these companies, but my main responsibility is the Aviva property company which deals with fire, theft and third party liability insurance. I am in charge of both individual insurance for our children, homes, cars and travel, as well as insurance for big corporations.
Are your insurances the best?
Insurance products are very good indeed, but the client is the most important. Our approach, experience, way in which we conduct concversations, their comfort, convenience, understanding of the complex matter. The offer is important, but the human relations are more important. High quality service is a must: if we don't have a good relationship, we cannot hope for their leniency. The offer should cover everything the client needs without the necessity of purchasing the most expensive policies to achieve it. Insurances are not the nicest products to be bought because they usually remind us of difficult moments in life; our role is to help, provide protection and help in the way that our client, a human, needs and expects.

You are a socially responsible company.
We do this because we are convinced that we need to help. There are plenty of activities to be involved in. Especially during the times of the Covid-19 pandemic. We respond to current events both as a company and as employees and agents. We mainly supported the medics by offering free life insurance, as well as the Polish Red Cross which supports seniors and poor families. We help children in hospitals and orphanages by collecting books and art supplies. We also undertake pro-ecological activities for the sake of the climate and the environment, such as the campaign "I know what I breathe" focused on clean air. We have been guided by the principles of corporate social responsibility from the beginning of our activity in Poland. We have an impact on the world we create.

Thank you for the interview.
Piotr Góralczyk
Beata Sekuła