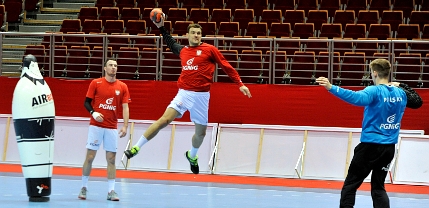 Marcin Rosengarten: A Pole in the best team of the world, that sounds proudly. Have you got accustomed to playing in Barcelona?
Kamil Syprzak: I have realised it by now as it is known what range of club we talk about in case of Barcelona. Playing in Barcelona means big responsibility and pressure, because we are expected to win every game. I can deal with that. I think I have fused well with the team. I have given myself one season to reach the optimum level of performance. I have talked to the players who have been playing in Barcelona for a few years and they have advised not to be overly ambitious in the first year, but of course I try to do my best in every game.
Barcelona- does it sound proudly?
Certainly yes. I think it is actually a dream of every player to play in Barcelona. It has also been my dream. . Now I have a chance to accomplish this dream./to make that dream come true.
Then let us check what you know about the club you have always dreamt about? What is the slogan of Barcelona?
Un mes que un club.
What does it mean in Polish?
More than a club.
Is Barcelona indeed more than a club?
After these few/several months I have realised personally that a player does not need to worry about anything and has only to focus on handball performance. Issues/Such simple things like washing, cosmetics, shoes- you come to a training and everything is prepared/has been done for you. Sometimes I feel like a /child/kid. I go to a training and I focus just on handball.
Is the success of Barcelona composed of those one million details?
You can say so. Everything is of the highest degree. For example the medical care, we are treated in a clinic where 180 doctors are employed, its budget is bigger than that majority of Polish clubs have at their disposal. It should be this way when one thinks about building a great club.
Did you meet Messi, Neymar or Suarez in the corridors?
No, but every day I meet myself (laughter), as my picture hangs on the wall. I have felt by now a part of Barcelona. Football players train in another place, not at Camp Nou, but nearby Barcelona. I live close to it, I had an opportunity to be there a couple of times and I have not seen Messi by now, but I have met Andres Iniesta among others.
How is life in one of the most beautiful cities of the world?
It is indeed one of the best places to live. I have seen much so far. We have been to the Museum of Picasso, we have visited Sagrada Familia, this is a must to see. I recommend Barcelona in every season. Certainly one cannot be bored in the capital of Catalonia.
Do you have your favourite restaurants?
Yes, I have two favourite ones, one is Italian (laughter) as I prefer Italian cuisine. I spend much of time at home, because I like to drink coffee on a sunny terrace accompanied by my wife.
Are you recognizable at Ramblas by now?
In that temple of thieves (laughter) not yet, but I was accosted by a stranger several times. Once I saw a little boy dressed in a t-shirt with a logo of Barcelona, he started to pull his mother, who didn't known who I was, but this boy knew perfectly who I was.
In less than two months the European handball tournament will be held in Poland. Are you aware of high expectations towards you as to one of the leading figures in Polish handball?
I do not see it that way, though I realise I will be expected to perform better than one year ago. I always do my best to help my team in succeeding. It is a dream of every competitor to play in front of their own audience and it would be great to get a medal. If health serves well, we truly believe that encouraged by our own fans we will attain a lot.
A tournament in Gdańsk is ahead of you, one of the last stages before Euro, your rivals are strong, it promises to be an interesting and emotional weekend in ERGO ARENA.
The competing teams are highly qualified. We will have a chance to check up our abilities. We play our first game with Russia, these are always matches with an implied meaning. I invite all our fans to Gdańsk on Saturday and Sunday. It is the last time we play for you in Gdańsk before the European tournament.
The International Handball Tournament will be held next weekend, 7-8 November at ERGO ARENA hall in Gdańsk. Next to the representation of Polandthere will be: – the Olympic vice- champion from Sweden, the fourth team of the world from Spain, and Russia. Tickets are still available at the webpage www.ebilet.pl.
Fans may expect many attractions- one can see a trophy, which will be received by the next champion of Europe. The tournament in Gdańsk is the next stop of the Trophy Tour, and that is why a special EURO zone 2016 will be created in front of the ERGO ARENA, where different activities and entertainments will be held. It will be open on Saturday from 12 a.m. and on Sunday from 3 p.m.
During this tournament a premiere of the anthem of the European Handball Championship Poland 2016 will take place. It will be performed by one of the Ambassadors of EURO 2016 Mika Urbaniak.
The song "Come Play With Us" will be presented for the first time before the Sunday final.
The same day the ambassadors of EURO 2016 in Gdańsk will be presented.