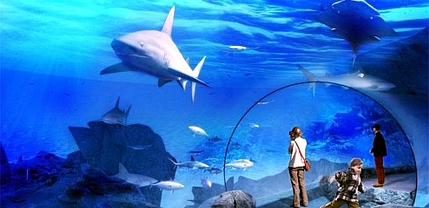 Rainy, cold, sombre mood around. Autumn has come. What to do in free time when one cannot spend it outside? Where to find an original and beautiful place other than a routine cinema and playground? I will surprise you, it is in the very center of Europe, in Poland, at the zoo in the city of Wrocław.
Yes, it is not a joke. Recently, on the 26th of October 2014 a new pavilion called "Africarium" was open at the zoo in Wrocław. It is a place, which surprises and amuses, moves you to a different world, to an entirely different dimension, close to nature. I will describe that later. As the place is new, it attracts crowds of visitors. And no wonder why. It is crowded usually at the weekends. The zoo can be toured for a few hours , as long as it doesn't rain, and it is better to visit Afrykarium 2-3 hours before closing there are not so many people there at that time.
Let us see what is inside of the first oceanarium in Poland. It is probably the only place in the world dedicated exclusively to the fauna of one continent, Africa. One can find here different aquatic ecosystems of Africa. In almost twenty pools and reservoirs one finds hippopotamus from the river of Nile, freshwater fish from Malawi and Tanganica lakes and natural coral reef from the Black sea. Continuing our walk we face the depth of Mosambic Channel and we become more and more fascinated. The level of excitement reaches the zenith when we arrive at the 18-meter long acrylic tunnel and we can admire sharks, rays and other huge fish almost face to face. There are lots of themand they swim close to us and above our heads. Besides that undoubtful attraction there is one more dedicated to the Coast of Scheletons in Namibia with cap pinguins and the jungle with crocodiles and manats called as well mermaids. If none of that thrills your children, which I doubt, then see the exhibition of African kotica, which are mammals often mistaken with seals, and their underwater dances and tumblesattract the visitors' attention. I recommend to children to have a look at hippopotamus , which may be watched from a few different perspectives – from underwater and from above.
So there are many attractions and the newest special offer dedicated more to adults and older children rather than small kidsis the action "Evening at the Africarium". Each weekend, from Friday to Sunday even until 9 p.m. one can witness Africa. Besides visiting the pavilion, one may taste dishes typical for that exotic continent. Among the four menu proposals we find a vegetable soup with chicken pieces and coconut milk, hot chili and curry, poultry sirloins marinated with paste of curry, mango and coconut milk served with basmati rice, corriander and broad bean and some other interesting dishes. The ticket including dinner is 50 zł per person, a tour without dinner is 20 zl. We need to hurry as this proposal is valid until the 27th of December.
Everything is pretty, beautiful, yet as usual there must be a "but". It is very hot there and even terribly hot and the queue to the cloakroom is very long… I suggest to wear layers of clothing, so as to be able to take off unnecessary clothes, and find a volunteer to carry all that clothes Another drawback may be shorter opening hours at the zoo, until 4 p.m., but this is usual time after the spring- summer season.
If you still hesitate and say you don't like Arfica, just the Polish climate, here you go. The Wrocław zoo also offers the attraction of Odrarium.
It is the external exhibition dedicated to the flora and fauna of four sections of the Odra river. If it does not rain, you can admire the animals at the zoo, perhaps they will also want to watch us.
I think, when it gets cold and gloomy outside, there is no better place in entire Poland to spend time. It is worth adding that another attraction is going to be open in the spring next year – TWO POLES- THE WHOLE WORLD.. This project is aimed at presenting the danger of global warming and disappearance of icebergs. I will describe the new pavilion next year and now I am rushing to the Africarium to warm up a bit… WHY not?
Dominika Glos