WASKO Spółka Akcyjna was founded 30 years ago by scientists associated with the Silesian University of Technology in Gliwice, and since then it has been designing, implementing and maintaining advanced IT systems used in the following sectors: fuel and energy, telecommunications, financial, health, science, higher education and public administration.
Thanks to the passion and commitment of its employees, WASKO has become one of the leading innovative companies in Poland, creating technologically advanced IT systems.
From the very beginning, our goal was to create own large integrated systems operating in a variety of areas throughout the country. We successfully accomplish this goal over the years.
One of the first implementations were complex database systems for Telekomunikacja Polska, which in time turned into an integrated system that comprehensively supports the largest telecommunications and gas operators.
WASKO also designed and implemented a Command Support System, installed in many public administration units. This system has become the foundation for the IT System of Rescue Notification Centres, that is, the integrated 112 number handling system, saving lives and health.
Another solution entirely developed by WASKO was the production system of national identity cards and passports. It was then that, as one of the first in Europe, we included
biometric features in this document.
In recent years, WASKO has successfully become a leading provider of solutions in the field of traffic engineering, implementing the intelligent control and traffic management systems in major Polish cities and solutions supporting safety of passenger traffic in civil aviation.
The WASKO Capital Group employs over 1,300 employees, 90% of whom have higher education. Together with WASKO, the Capital Group consists of COIG, ENTE, GABOS and
Novum companies.
The WASKO Capital Group after 30 years of its existence can proudly use the slogan "Proven by time", which is confirmed by the completed projects, received awards, and planned realizations.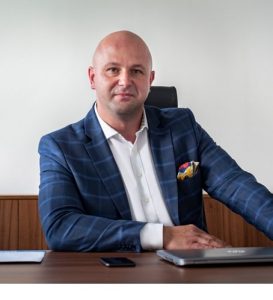 Krzysztof Skórka – Director of the IT Department at WASKO S.A. A graduate of the Faculty of Automatic Control, Electronics and Computer Science of the Silesian University of Technology. He has associated his entire professional career with WASKO S.A. He started working as a programmer and designer, and now, for many years, as a member of the management team, he is responsible for overseeing the production and implementation of IT systems. A man is the most important value for him – he is aware of the company's intellectual capital. Passionate about mechanical watches passionate. Member of Mensa Poland. Winner of the Leader by Vocation 2018 Award.
The department he manages employs over one hundred people and implements software (the so-called softwarehouse). All implemented projects must be innovative, of the highest quality and safety at the global level. His team consists of outstanding specialists who are able to build each system in accordance with the client's expectations, as well as adapt
existing solutions to his needs. Like the entire company, we are open and ready for new challenges.
For more information please contact us:
[email protected] | www.wasko.pl