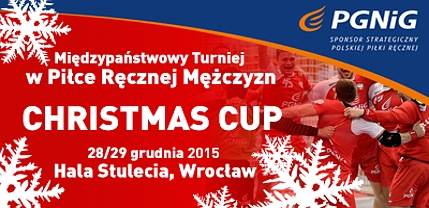 Sale of tickets for Handball Tournament in Wrocław has just started.
An International Tournament of Handball Players Christmas Cup will take place in the Centennial Hall in Wrocław on 28-29 December. The Polish representation will participate in that event. The Polish national handball team, which gained bronze medals in the World Championship, will play against national teams of Czech Republic, Ukraine and Iran. It will be one of the last stages of EuropeanChampionships, which takes place in Gdańsk, Katowice, Kraków and Wrocław in January.
The tickets sale has started on 25 November, it will be last opportunity for fans to see the Polish team before EURO 2016.
Tickets have one day validity and they allow for seeing 2 matches played the same day. They are divided into 3 prize categories (29 zl, 39zl, the first category- 59zl). Tickets are available on webpage www.ebilet.pl
The tournnament will be played in the cup formula, on 28th December there will be semifinals- the Czech Republic vs. Iran, 5.30 p.m., Poland vs. Ukraine 8 p.m. . Next day winners will compete in finals, the remaining teams will compete for the third place.
PLAN of the TOURNAMENT:
28 December
17.30 – Czech Republic – Iran
20.00 – Poland – Ukraine
29 December
17.30 – match for a third place
20.00 – FINAL
The tournament will be one of the last tests for Polish National Team before EURO 2016, which will take place in Poland on 15-31 January 2016. Sell of tickets for EURO 2016 is available on webpage www.ebilet.pl.
Poland will play in Kraków, with France, Macedonia and Serbia. Followingly, teams from Germany, Spain, Sweden and Slowenia will compete in Wrocław.